V.I. Equipment is stocks new, used and rebuilt track adjusters for excavators.  If you're in need of a new, rebuilt, or used track adjuster for a Caterpillar, John Deere or Hitachi excavator, please contact us for a quote today. We can supply new or rebuilt excavator track adjusters, or used excavator track adjusters for most models of Cat excavators, Deere excavators and Hitachi excavators at the most competitive price.
V.I. Equipment supplies rebuilt and used excavator track adjusters for Cat, Deere and Hitachi excavators to customers worldwide. We serve a large number of clients throughout British Columbia, Alberta, Saskatchewan, Manitoba, and the rest of Canada, as well as the USA.  We also offer international shipping. We shop around, so we can guarantee the lowest shipping rates available.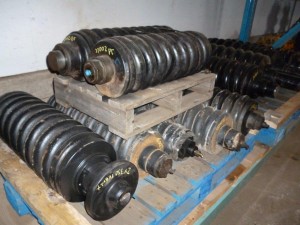 We specialize in rebuilt and used parts for Cat excavators and loaders, Hitachi excavators and Deere excavators and loaders. For rebuilt or used Cat track adjusters, Deere track adjusters and Hitachi track adjusters, please contact V.I. Equipment. Our quality used, rebuilt and new heavy equipment parts are priced to save you money, and we stand behind our product. We will help you get your heavy equipment back to work quickly for less.